Download Majuu Jouka Shoujo Utea, Episodio 2 En Español, Watch Majuu Jouka Shoujo Utea, Episodio 2 En Español, don't forget to click on the like and share button. Anime Majuu Jouka Shoujo Utea always updated at HentaiHD.net. Don't forget to watch other anime updates.
魔獣浄化少女ウテア / Majuu Jouka Shoujo Utea
#2. ミズキの鏡 / Mizuki no Kagami / Mizuki`s Reflection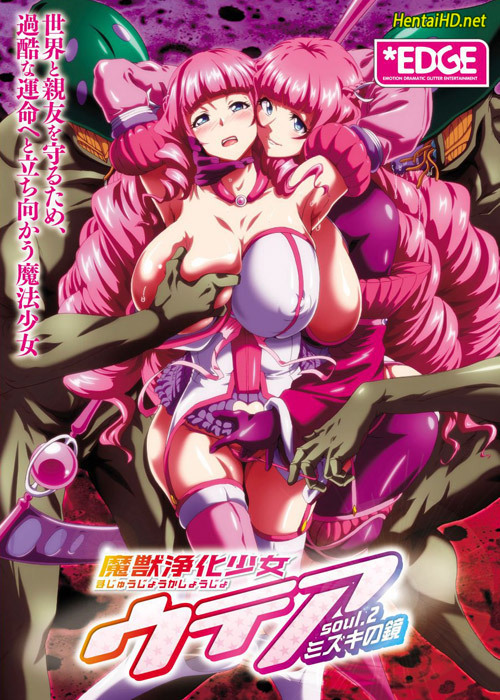 Utea Charm (Karin) y Utea Grace (Mizuki) formaron un contrato con una misteriosa criatura llamada Clio y pasaron sus días luchando contra bestias lascivas como guerreras mágicas. Mizuki, para aliviar la carga de Karin, que estaba exhausta por las continuas batallas, desafió a enemigos poderosos solo. Sin embargo, fue acariciada por bestias lascivas disfrazadas de su padre y su hermano, quienes acariciaron sus pechos bien desarrollados nutridos por su afecto y su traje de niña mágica muy ajustado. También la besaron, vertiendo fluidos corporales afrodisíacos en ella.
Mizuki, dividida entre el placer pecaminoso de ser deseada y reconocida como mujer por su padre y hermano respetados pero entendidos como falsos, y la estimulación intensa pero delicada del tormento de las bestias lascivas que envolvió todo su cuerpo, finalmente sucumbió. . Ella se entregó ansiosamente a sus deseos carnales, siendo impregnada por las bestias lascivas a través de eyaculaciones vaginales.
La chica mágica, ahora atrapada en un bucle de placer carnal, donde da a luz a las bestias lascivas solo para ser violada por ellas una vez más, ha caído…