Download Isekai Harem Monogatari, Episodio 4 En Español, Watch Isekai Harem Monogatari, Episodio 4 En Español, don't forget to click on the like and share button. Anime Isekai Harem Monogatari always updated at HentaiHD.net. Don't forget to watch other anime updates.
異世界ハーレム物語 / Isekai Harem Monogatari / Tales of A Harem in Another World
#4. 疾風怒濤の5Pハーレムエッチ♡ 俺たちの戦いはこれからだ!/ A Wild Fivesome Harem Orgy: Our Fight Has Only Just Begun!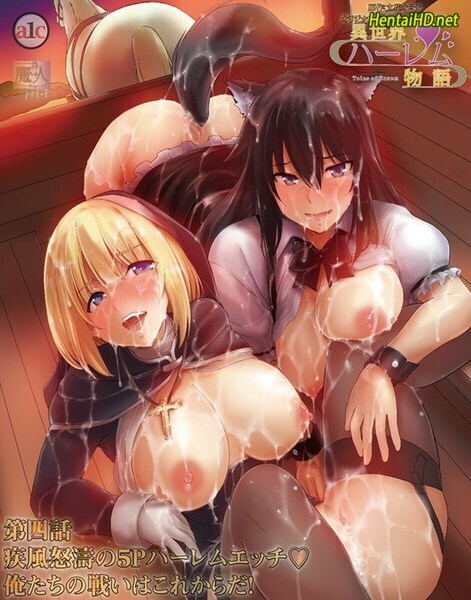 Naoki, un hombre valiente que incluso se ha acercado a una nueva compañera, Mira.
Además de Harlem, también se apresura a grabar 5P con Philia, Tiane y Ruze.
"Parece que el valiente me cautivó por completo".
Naoki prueba a las tres personas que han aumentado su sensibilidad con los ojos vendados en orden.
Comparado con el lujoso Ma ● Ko con bellezas con los ojos vendados, el palo de carne del héroe es más duro.
Incluso si están vendados por el contraataque de las mujeres hermosas, el poder del héroe no disminuirá.
El placer de estar bloqueada y más fuerte, y las chicas que sacuden activamente sus caderas, son todas las fuerzas impulsoras de la eyaculación.
Y un partido que trabaja duro para fortalecerse aún más frente a enemigos fuertes.
Las voces de cuatro personas resuenan en el bosque puro.
El semen gotea sobre los pechos que se mecen, el jugo del amor que salpica y la piel suave de las mujeres hermosas. ¡Felicitaciones por este maravilloso harén!
Continuo sexo vaginal con corrida con 4 heroínas para aplastar a los monstruos duros
Más afilado que la punta de una espada. Mayor que el impacto de un rayo.
¡Sacude tus caderas más rápido de lo que puedes disparar un arco!