Download Sotsugyou ** Densha, Episodio 3 En Español, Watch Sotsugyou ** Densha, Episodio 3 En Español, don't forget to click on the like and share button. Anime Sotsugyou XX Densha always updated at HentaiHD.net. Don't forget to watch other anime updates.
Sotsugyou ** Densha / 卒業○○電車
#3. 酔いつぶれた女教師は弛緩した身体を弄ばれる / The Dead Drunk Female Teacher`s Limp Body Gets Toyed With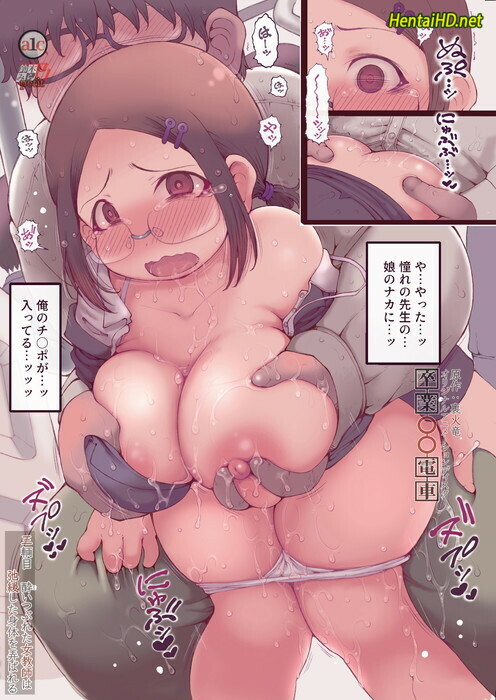 Bunta Kusade también está esperando a Kanoko Nakajima hoy.
Ella apareció y estaba inusualmente borracha.
Bunta se impacienta cuando se entera de que se ha celebrado su fiesta de despedida.
Bunta recuerda el recuerdo de separarse de Nanoka de Kanoko, quien deambula de manera poco confiable.
Nanoka estaba haciendo los últimos recuerdos en la habitación de Bunta.
Borracha, ella lo buscó activamente.
Dos personas que están conectadas.
Lo último que reveló Nanoka fue su embarazo con su prometido…
Al tocar ese recuerdo, Bunta se da cuenta de la verdadera identidad de Kanoko.
La carne femenina que creció tan ricamente como la hija y la madre del ser querido está justo frente a mí.
El deseo de Bunta estalla en ese hecho.
Un hombre pervertido que se conecta desde el pasado hasta el presente revela su verdadera naturaleza.
Delirios y realidad que se mezclan en un tren repleto.
Los pensamientos mezclados le quitan los colmillos a la mujer frente a ella.